Please note I'm not currently taking on any new commissions.Keep an eye on my social feeds below for news on when this changes.
About.
Thanks for visiting my website. My name is Owen Delaney, Artist and map maker. Here's a little background about me:After studying Art and History of Art to A-level standard at school, I went on to pursue a career in IT. I continued to draw and paint in my spare time over the years, and one day my passion for running and exploring the outdoors inspired me to draw a map of The Arc of Attrition - a long distance footrace along the South West Coast Path in Cornwall, after somehow managing to haul myself over the finish line.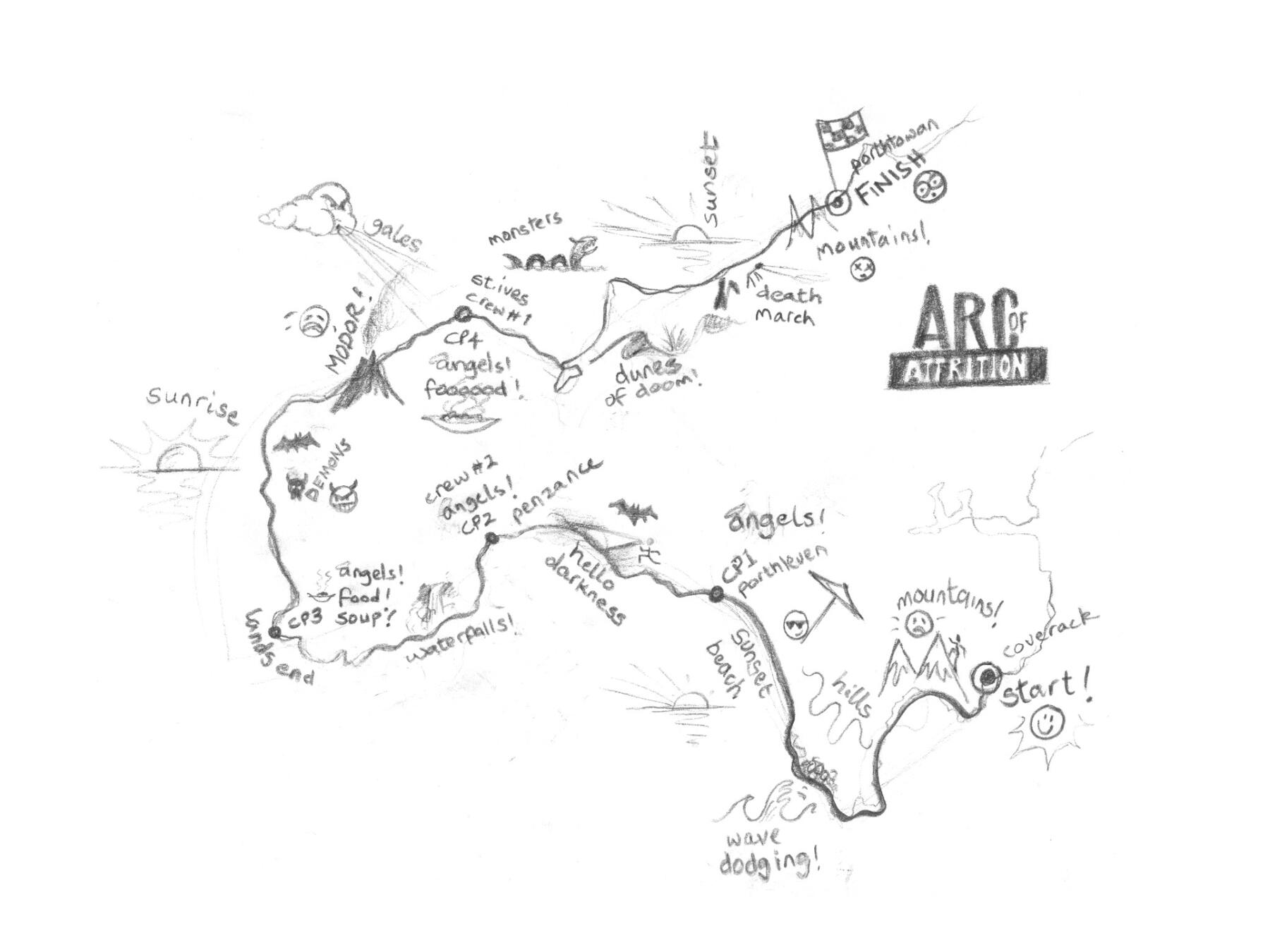 This sowed the seed, and more maps followed of my experiences on the trails. This led to requests for commissioned work from other runners and event organisers.The maps have now become another big passion in my life. I put a lot of thought and effort into my work, drawing on traditional and modern cartography techniques, always looking to create the best possible result.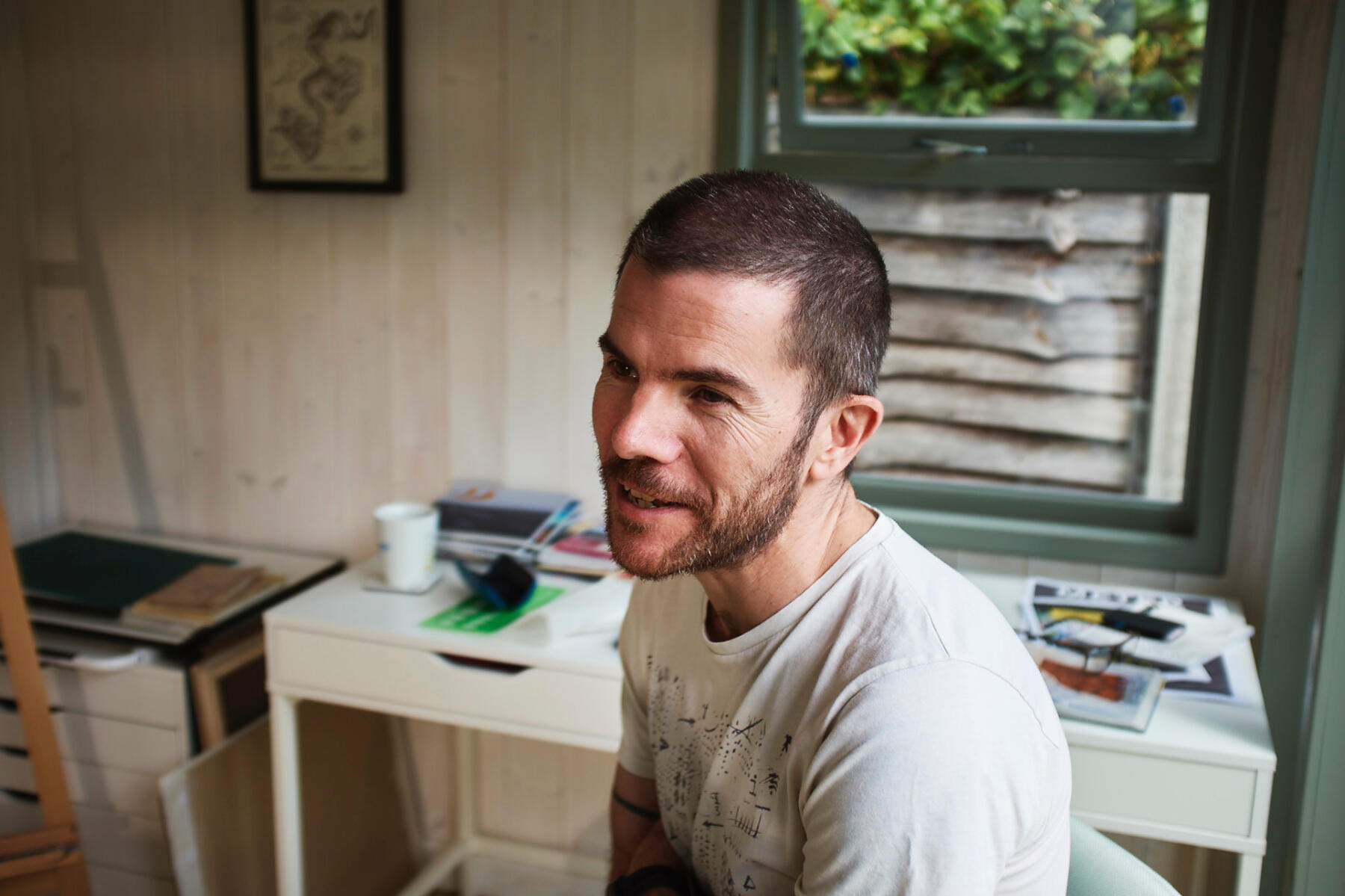 📷 Dan Ross
Gallery.
Over the past few years I've created over 350 bespoke commissions for runners, cyclists, walkers and event organisers. Here's a selection of a few recent commissioned artworks, some hand drawn ink illustrations, some digital.
---
Reviews.
Here's what some previous customers have said about their experience working with me.
---
ROUND WALES MAINLAND WALKThis piece was completed in 2020 to commemorate an amazing achievement of circumnavigating the country of Wales, starting with 180 miles on the Offa's Dyke Path from Chepstow in the South to Prestatyn in the North, then the 660 miles of Coastal Path back around to Chepstow. Liz walked this route in stages over a few years, and I loved having the opportunity to illustrate these amazing memories.Here's what Liz had to say:"My husband commissioned a map for my birthday (way back in the summer, but COVID-19 delayed the framing so it will be January 2021 before it's hanging on the wall). The map commemorates my walk round the perimeter of the Welsh border and coast, walked over a period of three or four years, partly with my daughter, partly with a friend, occasionally with road support from my husband, but mostly backpacking solo.It's an incredible route as it's so varied. Offa's Dyke along the Welsh/English border is hilly, rural and relatively remote, whereas the coast can be very urban, with seaside towns, caravan parks, shipping ports and heavy industry, yet also wild and rugged and remote.I recorded my journey in a sketchbook and a handwritten journal so Owen's hand drawn map was the perfect personalised souvenir. Watching his videos unfold online was a joy. Not many people have the chance to walk round the edge of a whole country (Anglesey excluded) and I now have a reminder that will last as long as the memories."- Liz Wakelin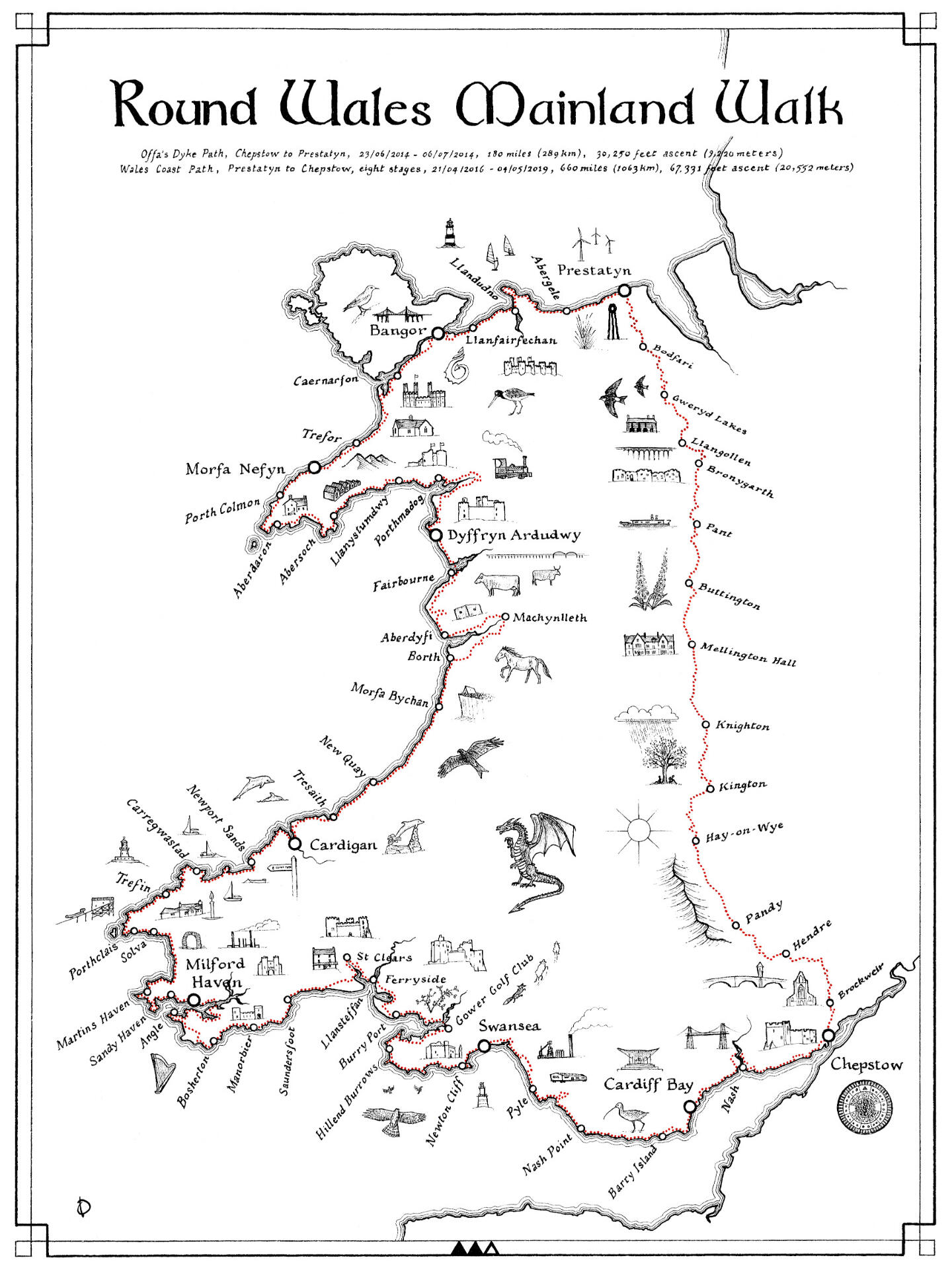 ---
LAND'S END TO JOHN O'GROATSA hand drawn map covering this epic journey on a massive sheet of 70x100cm hand made Khadi paper, was one of my biggest and most enjoyable mapping challenges. Such a great story to tell."In 2017 I ran from Lands End to John O'Groats with a pack on my back and following trails as much as possible. It was a life changing experience and as I told stories in the first few weeks after I finished, I started to feel sad that it would all be forgotten and the memories would likely fade almost completely away. I wanted to find a way to be reminded of the journey and the little side-stories I experienced and heard from others I met on that journey.I knew of Owen's art from the Centurion race memento t-shirts and once I saw that he took commissions I instantly knew he was the person who could help me to remember this run for many years to come.Owen was meticulous about the details as I jotted down notes and sent some photos to inspire the images, and he spotted and corrected where I'd already jumbled up memories with dates. As the process of creating the map progressed, it was quite an emotional experience to see it unfold as Owen created it and shared photos and video clips of the process.Every little detail on the finished art-work is just exquisite; from the tiny little motorbike at Dom's Bike Stop in the West Country, through glorious peacocks and hairy cows up to the sweetest little cat I met in a B&B and the microscopic midges in Scotland. The detail is just incredible on all of the highlights and features. The cherry on the top came with the addition of the mythical beasts for each country of the UK I'd passed through - the scaly little dragon and very regal lion and unicorn really help to remind me of the enormity of what I did."- Kate Driskell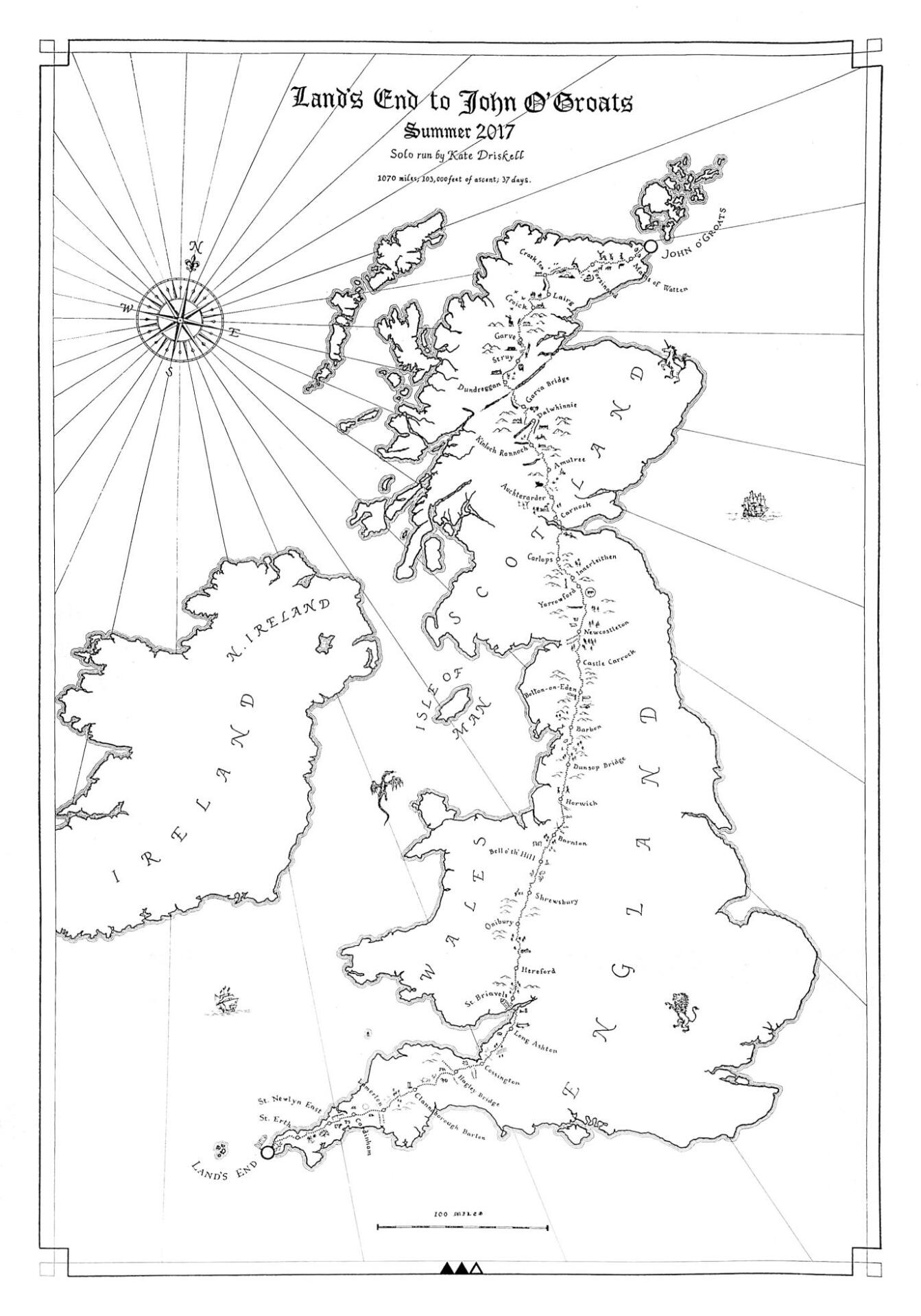 ---
CENTURION RUNNINGIn 2018, I created a series of 8 course maps for Centurion Running to appear on the finisher t-shirts for their series of 50 and 100 mile ultra marathon events in the UK."We commissioned Owen to create a series of maps for our 8 events after seeing some sketches of his online for races he had run himself. We loved the design, the feel of the maps, the attention to detail and particular the features that brought the race to light beyond that which a simple land map could deliver. We were looking forward to seeing what he created, but in the end he totally blew us away with his work.Each time we opened one of the new designs it was with a big smile on our faces. Any changes that needed making were always minor but Owen always came back to us in an incredibly short time frame with amendments and his communication was simply first class. From start to finish it has been a pleasure working with him and we will definitely be looking to continue working with him again in the future."- James Elson, Centurion Running Event Director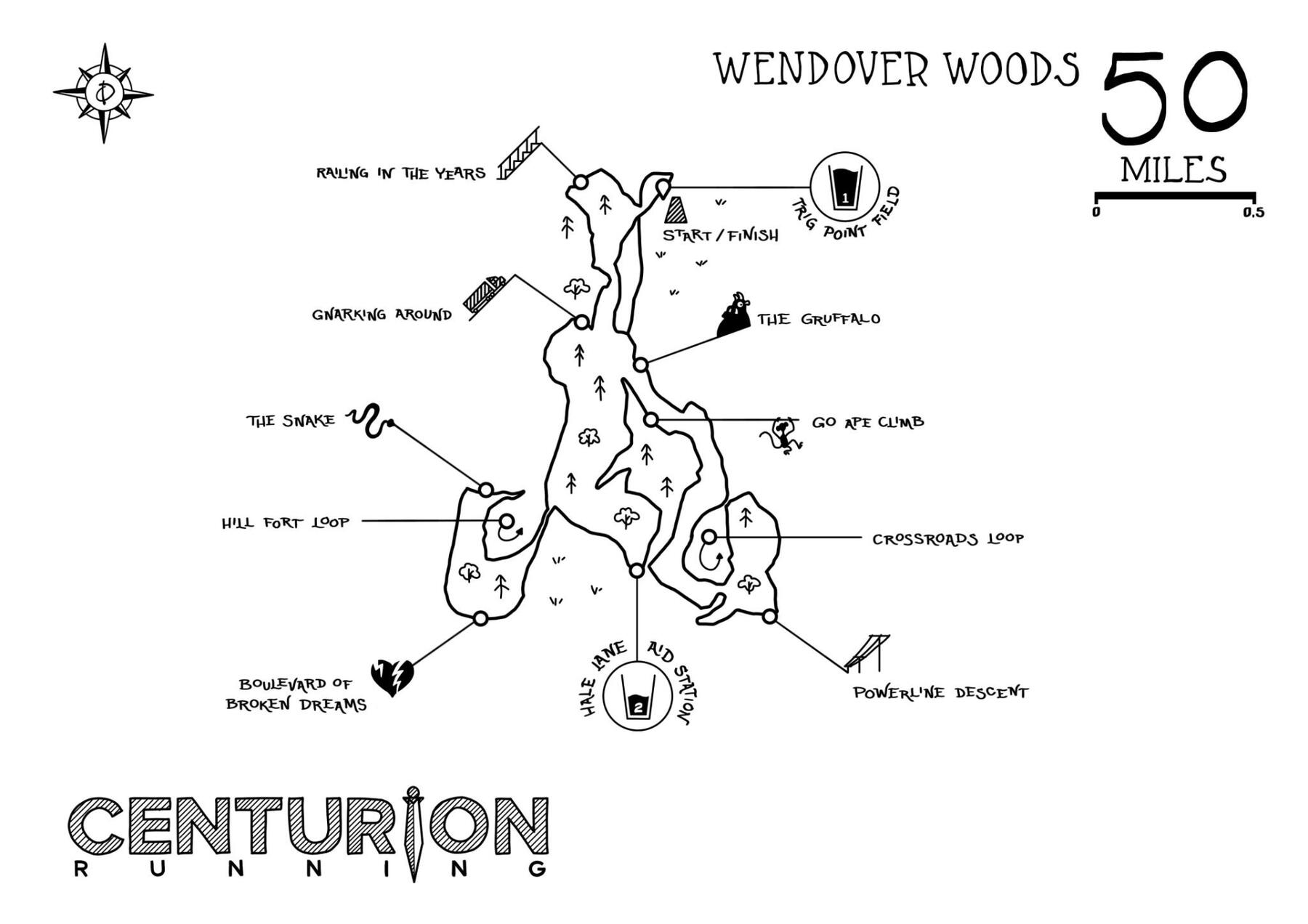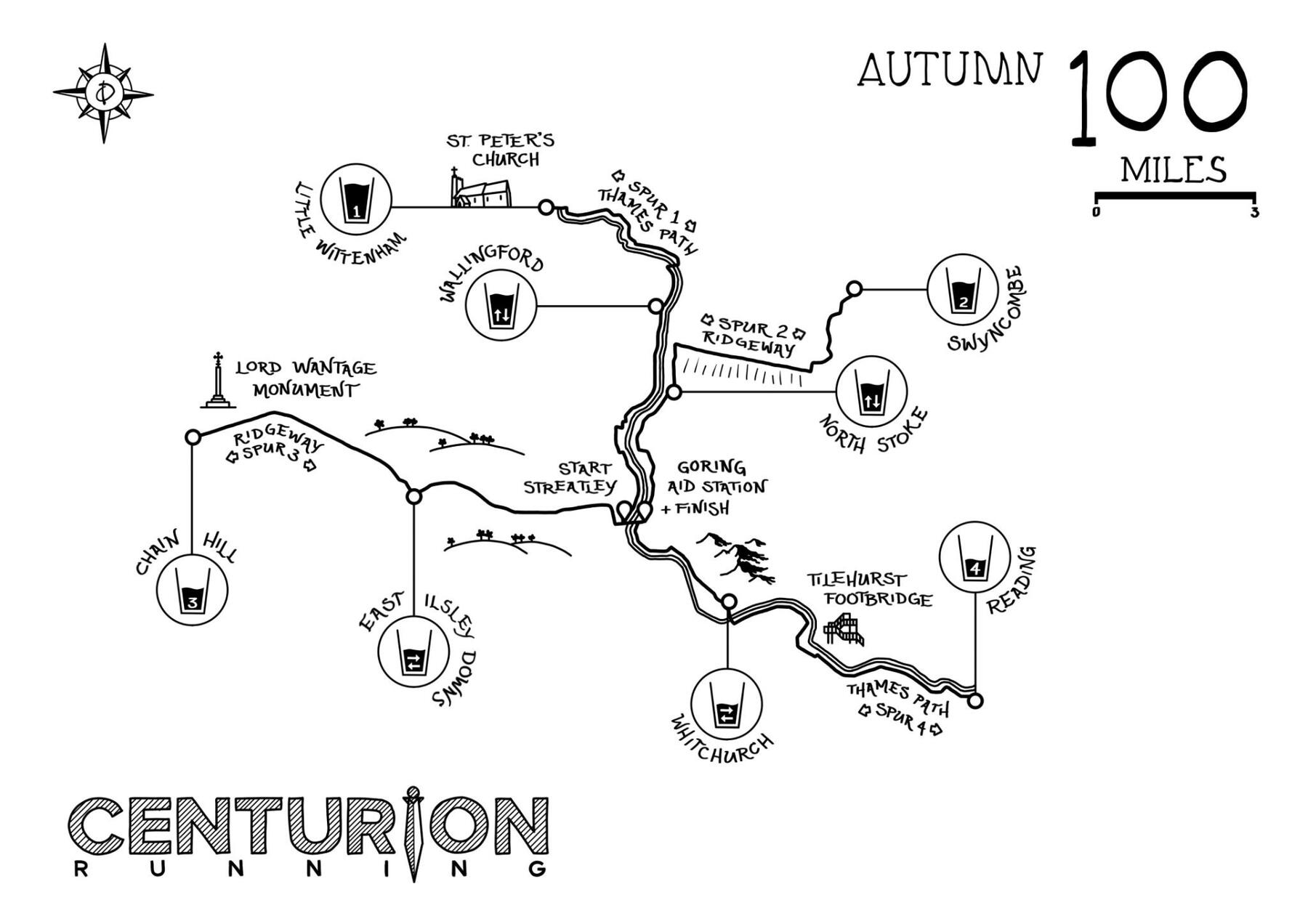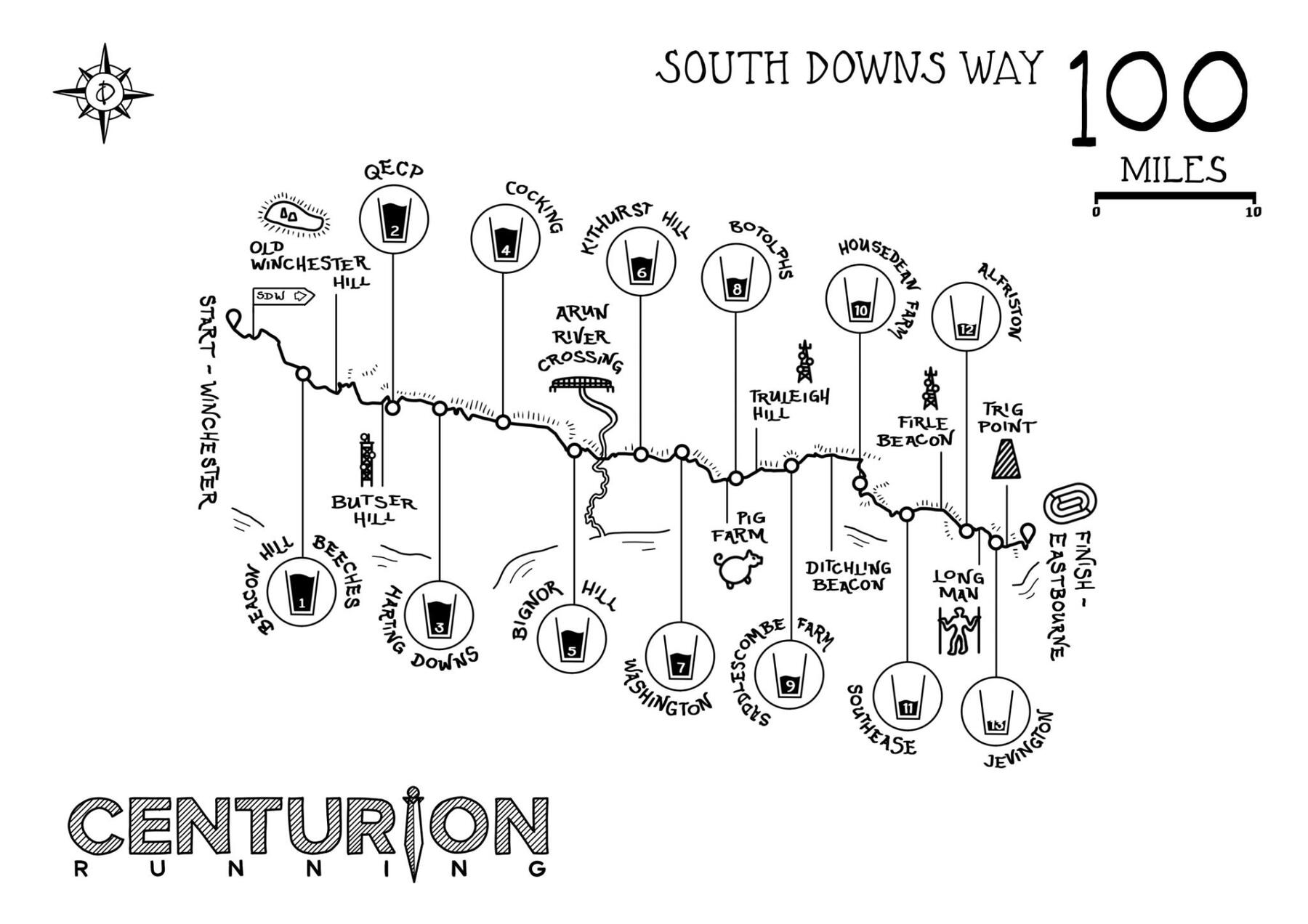 ---
THE MONARCH'S WAY FKTOne of my favourite commissioned maps, both in terms of the process of creating it, and the end result. I spoke with Lee-stuart before I started, to get some insight into his adventure, and it left me in stitches. So many amusing stories and events along the journey, that made creating this map an absolute joy."I commissioned Owen to create a very personal map of my Fastest Known Time on the Monarch's Way in 2018. There is a certain magic that is required to do something as wonderful as his maps and the time he spent speaking to me, reading up on the detail and route and researching the history and context of my adventure shines through in his ink.The map is entwined with the people and events on my 625 miles journey, with wizards and peoples initials hidden in the landscape to reflect friends that helped, and giant vintage sea monsters on the map to reflect the heavy flooding that dogged my first week.It's the little flourishes that make these maps so deeply personal, and a closer inspection of mine will reveal telephone boxes as shelters, sleeping rough, a run in with the law at night and an accidental house party as all parts of the bigger map. In a world of ubiquitous T shirts and medals this is a truly wonderful gift for any runner with a story to tell."- Lee-stuart Evans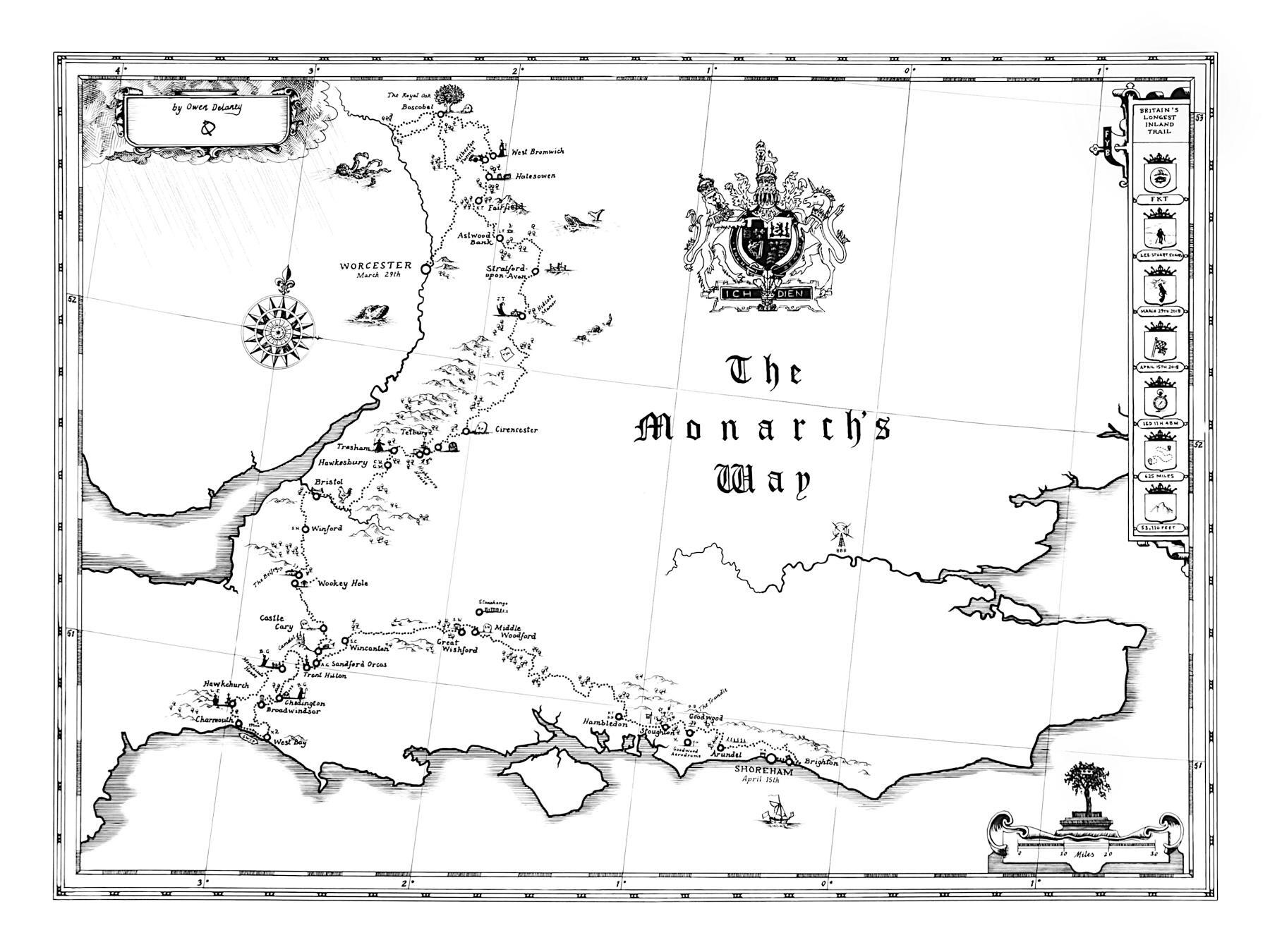 ---
BEYOND MARATHONAnother events company I've worked with over the past few years, creating artwork for everything from medal designs to event poster art and tshirt designs."It has been a pleasure to work with Owen on my projects this last year. Owen has incredible attention to detail. The more closely you look at his work, the more you see! Owen has created maps, medals and tshirts that my participants love, and I look forward to seeing more of his creations next year. Hopefully he can still fit me in as I now see he is booked up far in advance!"- Richard Weremiuk, Beyond Marathon Event Director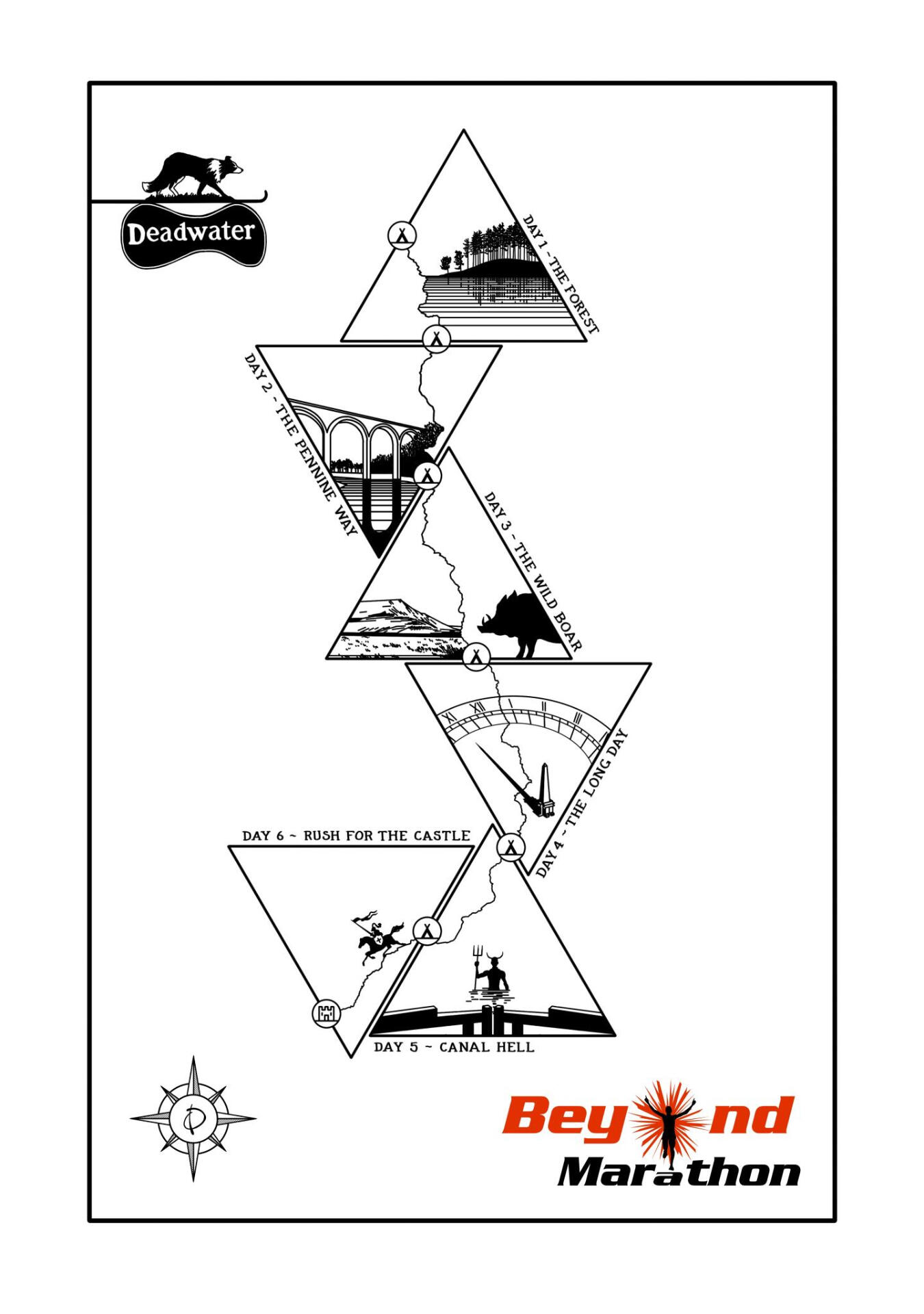 ---
COMRADESThe Comrades Marathon is an ultramarathon of approximately 89 km which is run annually in the KwaZulu-Natal Province of South Africa between the cities of Durban and Pietermaritzburg. It is the world's largest and oldest ultramarathon race.In 2018 I was commissioned to create a map for a 10 time finisher, and new green number holder of the Comrades Marathon, one of the world's most iconic running events.
Here's some inspiring feedback Michele sent me:"This is by far the most treasured, precious and meaningful gift I have received- there is so much symbolism and achievement etched into each stroke of the pen that has created this journey map. From the age of 5 years old, I emphatically noted to my father that, 'one day when I am big, I will run the Comrades Marathon and complete 10 in a row.' The only proviso I had to honour to my dad, was that I was not allowed to run until I was 30 years old (allowing for bones to settle for endurance). In my thirtieth year, three days prior to my first Comrades Marathon in 2009, my father was tragically murdered. With great support and companion strength from my husband and despite the shock and grief, we completed our first Comrades that year. We continued participation annually for the following 9 consecutive events. Each race was different, but was an accumulative goal achievement to ensure I accomplished that promise made to a man who embodied resilience and great strength.Upon completion of my 10th Comrades Marathon, my amazing husband presented me with a special gift- this hand drawn art piece exquisitely crafted by Owen. The detail and meaning of the journey of this race over 10 years, has been captured with such uniqueness and precision. This is a timeless piece of work, which not only holds so much treasure in its authenticity, but will always be a memento of the stark life contrasts of the loss and gain as one courses the route along life's map. Achievement and success are possible if one has passion, resilience and persistence... and the reward is a creative masterpiece made by a very talented artist."- Michelle Davis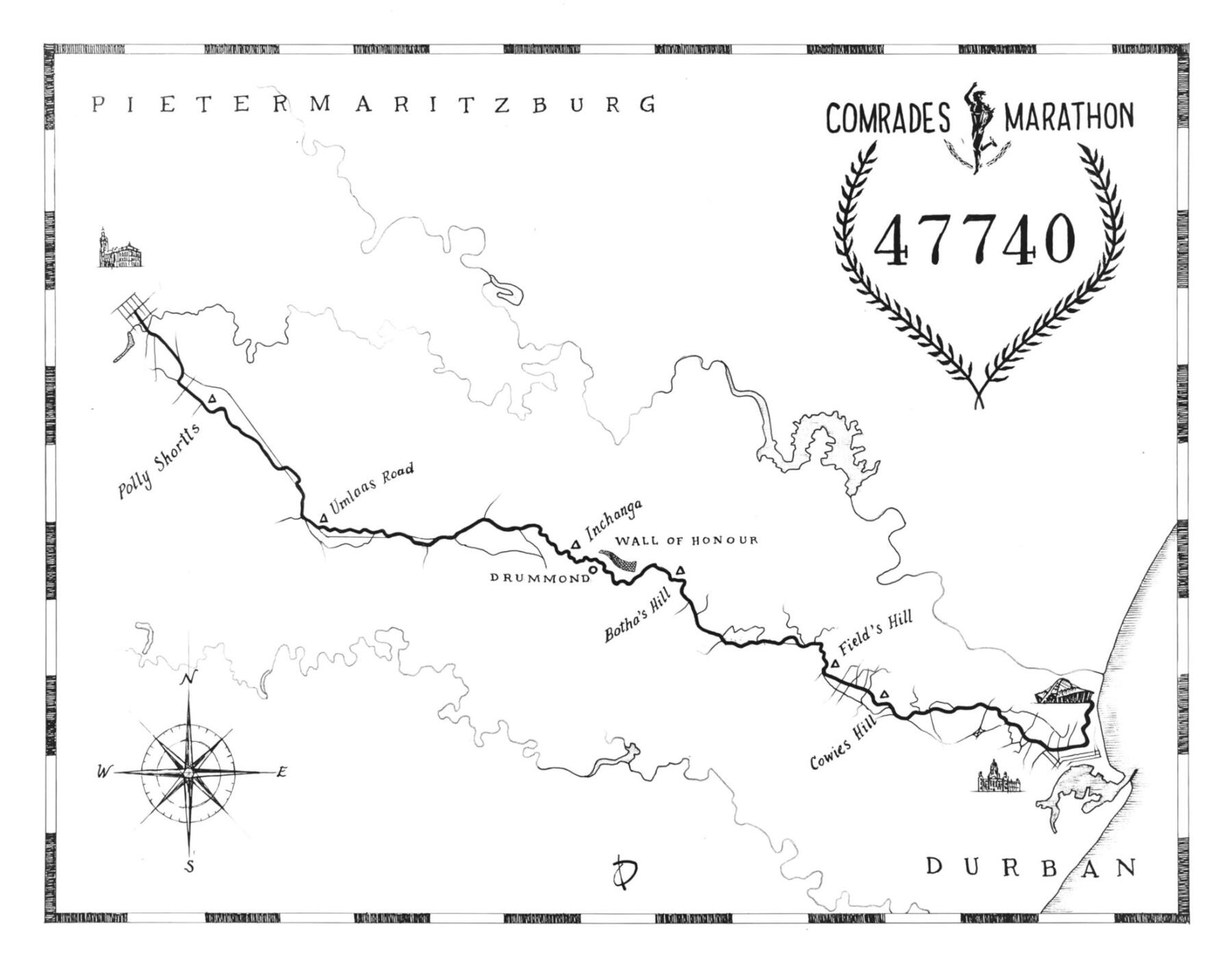 Privacy.
My commitment to your privacyThis policy explains the ways in which my websites collect personal information about you when you contact me and how I may use that information.Rest assured that I will never sell or swap your personal data and will only share it with organisations with whom I work where it is necessary (for example with a printer if your name or details needs to be added onto a print you have ordered from me). I will only share your data in this way if your privacy and security can be guaranteed.If you want to obtain a copy of the personal information I hold on you or ask me to update or correct any information please email me at [email protected].
---
Personal and Sensitive Information I collectThe information I collect depends on why you have approached me.
If you have ordered a bespoke commission or print I will need to collect:- Your full contact details to enable me to fulfil your order.
- Information on what you wish to see represented on the artwork. Some of this could be sensitive personal information.You will need to tell me how you would like to be contacted in the future and may request that I do not contact you at all once you have received your artwork.If you have made a payment via credit or debit card, this is handled by Stripe or PayPal, and you can read their own privacy policies here and here. I do not hold any of this financial information myself.
---
How do I use your information?I only use your personal data with your consent or where it is necessary to:
- Enter into or perform a contract or service for you.
- Comply with a legal duty.
- Administer my relationship with you.I will only use personal information for the purposes for which it was collected.
---
MarketingI may use your personal information to contact you with information about my art services or news. I will specifically check if you are happy to be contacted via post, telephone or email. I will only contact you if you have given your permission for me to do so. If you do not with at any time to be contacted by me, please let me know via email at [email protected].
---
My website and cookiesMy websites are hosted with Carrd (main site), Etsy (shop), and Substack (newsletter), and you can view their own privacy policies by clicking these links.I may use cookies to find out how people use my website in order to make improvements. Cookies are small text files which are placed on your hard drive to store information but do not have access to or use any personally identifiable information.
---
Links to other sitesMy website may contain hyperlinks to websites which may interest to you. I am not responsible for the content/functionality of external websites who are responsible for their own privacy practices.
---
Data SecurityI use a number of mechanisms to protect the security and integrity of your personal information. However, I cannot ensure or warrant the security of any information you transmit to me and you do so at your own risk. I take all reasonable steps and precautions required by law to protect personal information in my possession from misuse and loss and from unauthorised access, modification or disclosure.
---
Contacting me and keeping you in controlYou have the right to remain in control of your personal data through:
- written confirmation on whether or not I hold your personal data and if I do to obtain a copy of the information we hold (a subject access request)
- the right to have your data erased
- the right to have inaccurate data rectified.You may request a copy of your personal information. Please write to me via email at [email protected] providing me with sufficient information to verify your identity. It will help me to respond quickly if you can indicate why you think I hold personal information about you. I shall try and respond to your satisfaction but there may be situations where we are unable to do so and I shall tell you why.
---
Correcting your detailsIf you wish me to correct or update your personal information please email me at [email protected].
---
Request to stop future contactIf you do not want to be contacted in future please email me at [email protected] giving sufficient information to identify you and remove you from my records.
---
Changes to this Privacy PolicyI may update this Privacy Policy from time to time to ensure it remains up to date and accurately reflects how and why I use your personal data. The current version of my Privacy Policy will always be posted on my website.Last updated September 2021